The Organization
The UPA represents roughly 42,000 Quebec farmers as well as all forestry producers in the province.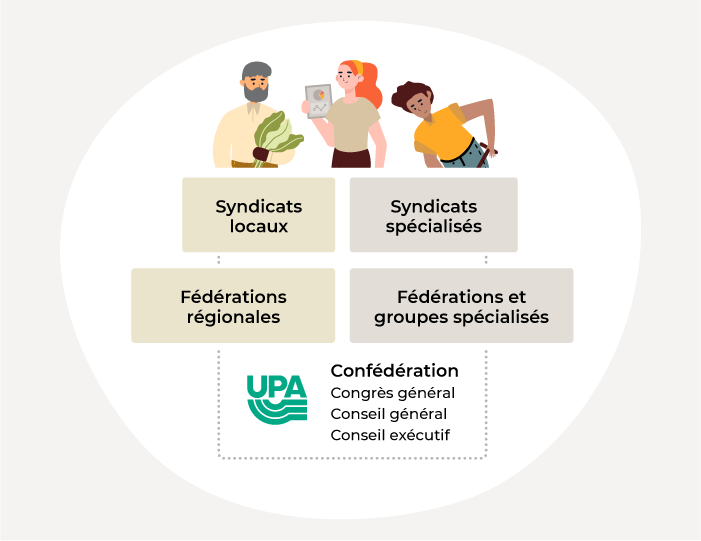 Organizational Chart
With 90 locals, 12 regional federations, its 130 unions, and 25 specialized groups, the UPA is the only official body that speaks on behalf of all Quebec farm and forestry producers. The UPA unites farmers in two ways: based on where they live ("general sector") and what they produce ("specialized sector").
The Regions
In addition to providing training and information for their members, the regional federations coordinate the UPA's actions. The work they are involved in is of concern to all farmers: promoting the profession, managing and protecting farmland, property tax, agroenvironment, etc. The building blocks of the regional federations are the locals—one local in each of the 90 regional county municipalities spread across Quebec's 12 regions, giving the UPA a presence across the entire province.
Visit a regional Website
The Productions
Farmers also come together within specialized unions based on their type of production. These unions—numbering well over a hundred across Quebec—are organized into the UPA's 25 specialized groups. The specialized groups do the work involved in developing production: marketing, quality, traceability, promotion, research, etc.
Learn more
Executive Council
Martin Caron

Président général

Paul Doyon

Premier vice-président

Stéphanie Levasseur

Deuxième vice-présidente

James Allen

Membre du conseil

Daniel Gobeil

Membre du conseil

Daniel Habel

Membre du conseil

Christian Overbeek

Membre du conseil
General Council of Regions
Pascal Rheault

Abitibi-Témiscamingue

Gilbert Marquis

Bas-Saint-Laurent

Yves Laurencelle

Capital-Nationale–Côte-Nord

Daniel Habel

Centre-du-Québec

James Allen

Chaudière-Appalaches

Jean Lambert

Chaudière-Appalaches

Michèle Poirier

Gaspésie-Les Îles

Jean-Marie Giguère

Mauricie

Jérémie Letellier

Montérégie

Stéphane Alary

Outaouais-Laurentides

Mario Théberge

Saguenay–Lac-Saint-Jean
General Council of Specialities
Serge Beaulieu

Acériculture

Jeannine Messier

Agricultrices

Raphaël Vacher

Apiculture

Michel Fournier

Aquaculture

Nicolas Pedneault

Bleuets

Jean-Thomas Maltais

Bovins

Pierre-Maurice Gagnon

Forestiers

David Lemire

Fraises et framboises

Christian Overbeek

Grains

Frédéric Poudrette

Grands gibiers

Pascal Forest

Légumes de transformation

Éric Van Winden

Maraîchers

Ghislain Loyer

Œufs d'incubation

Stéphanie Levasseur

Pommes

Francis Desrochers

Pommes de terre

John McCart

Quebec Farmers' Association

Julie Bissonnette

Relève agricole

Pierre-Luc Leblanc

Volailles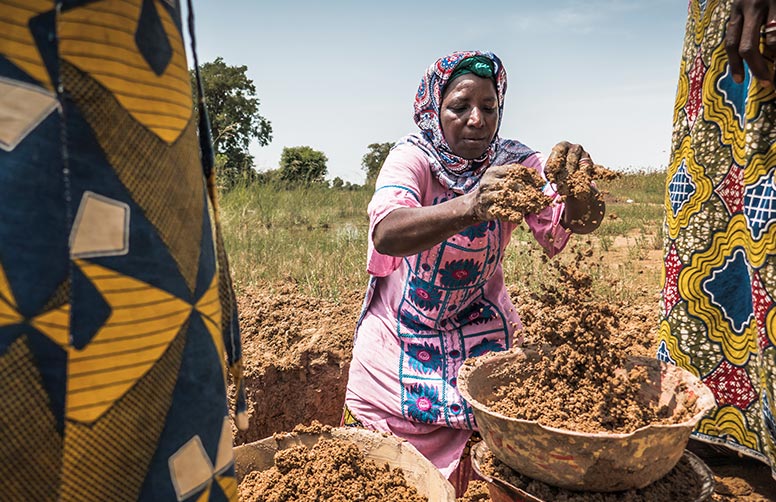 UPA Développement international
UPA DI establishes partnerships with farmers' organizations from Africa, Latin America and Asia to strengthen their capacity to act collectively for the development of agriculture and the well-being of rural families. This is a non-profit corporation whose members are the UPA Confederation, the regional federations and the affiliated specialized groups.
Learn more

This link will open in a new window